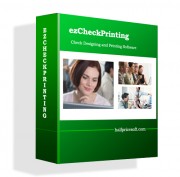 Accountants get more from Halfpricesoft.com's latest EzCheckPrinting QuickBooks version by printing checks on blank stock in one step. Test drive at www.halfpricesoft.com.
New York, NY, December 21, 2015 (Newswire.com) - Accountants seeking ways to be more productive during busy holiday season should try out the new ezCheckPrinting QuickBooks version from halfpricesoft.com(http://www.halfpricesoft.com). With ezCheckPrinting software, customers can design and print checks on blank stock easily. Halfpricesoft.com updates the QuickBooks version of ezCheckprinting and virtual printer for CPAs and larger companies with multiple accounts.  
Customers can now print business checks from local machine,  server & cloud, add multiple-users, and  import data more quickly.  The cost of the combo and the new features offered will save QuickBooks and Quicken customers money as well as time.
"The latest combo version of  ezCheckprinting and virtual printer gives accountants and larger companies using QuickBooks a better solution to printing checks on blank stock." said Halfpricesoft.com founder, Dr. Ge
Non QuickBooks can use ezCheckPrinting as stand-alone check writer. ezCheckPrinting is compatible with QuickBooks online, QuickBooks 2016, 2015, 2014 and previous version. It can run on Windows 10, 8.1, 8, 7, Vist, XP and other Windows systems.
To begin the 30 day trial  of this QuickBooks and Quicken printing feature, user needs to install both ezCheckPrinting software and the virtual printer on the  machine. Potential customers can download the trial version of ezCheckPrinting, online at http://www.halfpricesoft.com/check_printing_software_download.asp and sample all of the software's features.
Below are just a few features included in ezCheckprinting software:
Prints checks and stubs on blank stock in one step from QuickBooks desktop version, network version and online version.

Prints on preprinted check with MICR encoding to fill in manually later

Prints checks with logo, signature and extra labels.

Prints draft checks to collect funds via phone, fax and internet

Supports multiple accounts with no extra charge

Supports multiple users for one company
The cost is  $69 for the QuickBooks compatible version (ezCheckPrinting single user plus Virtual Printer), The single user version without QB compatibility can be purchased for $39.00.
To learn more about this check writer software, visit http://www.halfpricesoft.com/quickbooks-checks-virtual-printer.asp
About halfpricesoft.com
Halfpricesoft.com is a leading provider of small business software, including payroll software, employee attendance tracking software, check printing software, W2, software, 1099 software, and ezACH Deposit software. Today, software from halfpricesoft.com is trusted by thousands of valuable clients. This software also assists small business owners in simplifying their payroll processing and business management.
Share: